Presenting one of Captio's most popular eBooks. This book will teach you all about how to save money in your company by organising sustainable corporate events.

In this free eBook we unveil all the secrets of organising company events that meet sustainability requirements: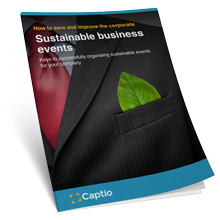 Key sustainability factors
Certifications and standards
Benefits of organising a sustainable event
How to organise a sustainable event
And much more!
We hope you that you find it interesting.