Here we explain the key elements for optimising your company's travel expenses
At Captio we know that controlling travel expenses is an arduous task, which is why we are presenting this guide with some of the simple key points used to bring added efficiency to the process of managing travel expenses.
Would you like to know the secrets of company travel expense management that is truly under control?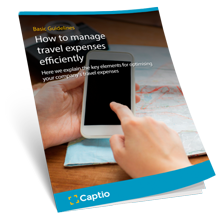 This free guide discusses the following points:
Analysis of travel

The importance of the process

Improve your efficiency

Expense policy

How to make difficulties easy
We will send it to you by e-mail so that you can read it now or whenever you like.
We hope you that you find it interesting!