If you travel for professional purposes, you are sure to be aware of the impact that it has on your personal life.
At Captio, we have been gathering first-hand information with respect to the consequences of corporate travel on the professional. Using a survey aimed at the collective of corporate travellers, we have drafted a report that strives to give an overview of how and why corporate travel has an impact on employees' personal lives.
In the report, you can find out about: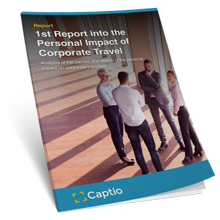 Impact of travel on employees' personal lives
Causes of this impact
Impact by sex
Stress and its consequences
Measures for reducing stress
Evaluation of corporate travel experiences
And much more!
We will send it to you by e-mail so that you can read it now or whenever you like.
We hope you that you find it interesting!